MiMedx® delivers innovative bioactive healing products for tissue regeneration
MiMedx® is the global premier processor, marketer, and distributor of human amniotic tissue. MiMedx® has distributed over 170,000 amniotic tissue grafts worldwide and achieved profound clinical outcomes in multiple therapeutic areas including ophthalmology, spine, chronic wounds, dental, orthopedic surgery, sports medicine, and urology. With this groundbreaking human tissue offering that promotes bioactive healing, MiMedx® believes its unmatched knowledge and superior processing of amniotic tissue strategically positions the Company to become the leader in regenerative medicine.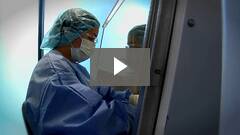 The Company's patent protected PURION® Process is the foundation of the MiMedx® AmnioFix® and EpiFix® products that serve to regenerate damaged or diseased tissues by delivering human extracellular matrix components, essential growth factors, and specialized mediating cytokines. AmnioFix® and EpiFix® reduce inflammation, reduce scar tissue formation, and enhance soft tissue healing. The Company's proprietary PURION® Process dry preserves human amniotic membrane tissue, resulting in minimally manipulated tissue products that address numerous serious unmet medical needs requiring tissue regeneration or healing inside and outside the body. Through the Company's unique process for dehydrating human amniotic tissues, improved clinical outcomes, increased patient quality of life, and reduced financial burden to the healthcare system are achieved.
MiMedx® obtains human amniotic membrane tissue that would otherwise be discarded through its placenta donation program. The "Give the Gift of Healing" placenta donation program allows mothers, delivering healthy babies by planned Caesarean section, to donate their placentas to MiMedx® which would otherwise be discarded by the hospital as medical waste. The MiMedx® staff and all of our resources are dedicated to handling, processing, and delivering the donated tissues to patients. The PURION® processed tissues are safe, effective, and minimally manipulated allografts that are intended for homologous use.
The MiMedx® allografts produced from the Company's proprietary PURION® Process for amniotic membrane tissue can be stored at room temperature for five years without the need for refrigeration or freezing. The grafts can be utilized right out of the package without a complicated thawing process. These critical qualities of the MiMedx® allografts allow hospitals, clinics, and surgeons to immediately provide the appropriate treatment while effectively manage their inventory of allografts.
MiMedx® is dedicated to the development and support of thoughtful and effective philanthropic programs to help those in underserved medical areas in need of healing.